A requested compact mirror is here! Take it on the go from looking at what's stuck in your eye to touching up makeup :) A lavender mirror with a polaroid of a girl, clouds, and baby's breath flowers. The mirror is metal and the design is cushioned so that the mirror inside doesn't break when dropped. The mirror inside includes a normal mirror and a magnifying mirror! Pair it with our BB Cloud Makeup Bag and take it on all of your travels and adventures!

The compact mirror is 6cm x 8.5cm, design is on both sides.
International shipping is available! 
PRE-ORDERS: For pre-order items, it may take 1-2 months before it is processed and shipped out. This is because pre-order items are in the works of manufacturing and are not in-stock inventory. You will be updated on the process on our Instagram page. If you purchase a pre-order item, your entire order will not be shipped out until that item arrives and is processed. If you don't want to delay the rest of your package, order pre-order items separately. By ordering pre-order items, you agree to these terms. If you don't wish to wait, don't order pre-order items.
REGULAR ORDERS: shipping time is 3-5 days, please refer to your tracking number as delays may occur. Processing time is 3-5 days, 3-10 days on influx restock days. Orders are unable to be shipped on weekends. Please allow 24-48 hours for tracking information to update via the USPS website.
INTERNATIONAL ORDERS: shipping time depends on the carrier you choose and the country you reside in, which should give you an estimate when you choose the shipping method. Euphoric Sun is not responsible for delays that may occur due to COVID-19 and other issues resulting in delays to countries outside of the US. Please be patient with international orders, feel free to contact us if any issue occurs.
If an address change needs to be made, please contact us with your order number and we can make changes from there. Please make sure to enter the correct shipping address to minimize the risk of the mailing service losing your package. We are not responsible for customers putting in the wrong address and a wrong address may result in the package being lost.
Refunds: Euphoric Sun does not provide refunds, all sales are final.
Exchanges: If the item is not open or used an exchange can be made with a product of the same value or lower. Euphoric Sun is not responsible for shipping costs on returns.
International: No refunds, exchanges, or returns for international customers.
If you have any issues with your order please email:
sun@euphoricsun.com with your name and order number. Thank you!
Customer Reviews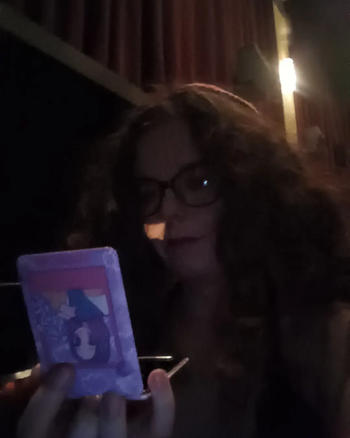 08/01/2023
So tiny and cute
Amazing.i love how effortlessly it fits in my hand. The dual mirror is a nice touch as it works perfectly for both checking small details and also watching over your shoulder. #euphoricbaes
Katlyn S.

United States
07/13/2023
Cute and compact!
This was one of my first compact mirrors, and it's so cute! It's slim and fits nicely in all of my bags. I love flipping it open like a flip phone whenever I need to touch up my lipstick. It has the normal mirror on one end and the magnifying mirror on the other end.
Julia

United States
03/02/2023
A must have!
I love it, the art is beautiful. It's obviously easy to take anywhere on the go. I wear both contacts and glasses so when it comes to my contacts this compact mirror comes in handy. I like how one side is for a closer view and the other is from a slight distance, I don't have to put it all up close on my face if I'm checking how I look.
Ruby

United States
02/13/2023
SUPER CUTE
I love this cute compact mirror! Came in tact and very protected. The drawing is beautiful and the double mirror is so helpful. I recommend to all.
Esme

United States
08/12/2022
Cute!!!
This is super cute. I like how there is a wide mirror on both sides, but it's small enough to fit in my purse. It makes it a lot easier when i'm doing makeup on the go.
Jennah S.

United States
07/19/2022
BEST COMPACT MIRROR
I've always wanted to have a compact mirror, so I don't need to use my Camera phone as a mirror. I just freaking love how adorable it looks and I always carry it with me inside my Cappuccino and Mookie Chest Bag along with my other essential things too! it's just 100% perfect overall
Joan D.

United States