Colored lashes inspired by Chinese fantasy dramas/ wuxia. This is a set of 5 colored lashes that are extra soft, fluffy, curled, and faux mink. The cover art is of Wei Wuxian and Lan Wangji of The Untamed. While the inner cover art is inspired by Bai Qian and Ye Hua of Ten Miles or Once Upon a Time.

These lashes are fun and offer a pop of color to your eyes. They also feel so light it feels like you don't have lashes on! The lash set comes with purple, red, green, and brown lashes as well as tweezers and lash glue. We still recommend buying our individual brush glues since they will create a better hold.
Try on photos are in order of: Ten Miles, Ghost General, Chenqing, Earth Realm, and Su Su. This set will later be a part of our Eternal Sun series this coming November!
International shipping is available!
PRE-ORDERS: For pre-order items, it may take 1-2 months before it is processed and shipped out. This is because pre-order items are in the works of manufacturing and are not in-stock inventory. You will be updated on the process on our Instagram page. If you purchase a pre-order item, your entire order will not be shipped out until that item arrives and is processed. If you don't want to delay the rest of your package, order pre-order items separately. By ordering pre-order items, you agree to these terms. If you don't wish to wait, don't order pre-order items.
REGULAR ORDERS: shipping time is 3-5 days, please refer to your tracking number as delays may occur. Processing time is 3-5 days, 3-10 days on influx restock days. Orders are unable to be shipped on weekends. Please allow 24-48 hours for tracking information to update via the USPS website.
INTERNATIONAL ORDERS: shipping time depends on the carrier you choose and the country you reside in, which should give you an estimate when you choose the shipping method. Euphoric Sun is not responsible for delays that may occur due to COVID-19 and other issues resulting in delays to countries outside of the US. Please be patient with international orders, feel free to contact us if any issue occurs.
If an address change needs to be made, please contact us with your order number and we can make changes from there. Please make sure to enter the correct shipping address to minimize the risk of the mailing service losing your package. We are not responsible for customers putting in the wrong address and a wrong address may result in the package being lost.
Refunds: Euphoric Sun does not provide refunds, all sales are final.
Exchanges: If the item is not open or used an exchange can be made with a product of the same value or lower. Euphoric Sun is not responsible for shipping costs on returns.
International: No refunds, exchanges, or returns for international customers.
If you have any issues with your order please email:
sun@euphoricsun.com with your name and order number. Thank you!
Customer Reviews
08/15/2022
Two left eyes?
Okay so before I get started, the packaging was so cute and the lashes themselves are beautiful. The only issue I have is that the lashes I got work better for my left eye than they do for my right. They have this little flare towards the side and the color gets lighter. On the left side, they look great, it enhances my eye shape and the color is vibrant. However, for my right eye, the shape of the lash is the same with the flare headed to the left and the lighter color on the left. It doesn't look as good because the fuller side of the lash is headed towards my nose. It's like this for half the pairs which sucks because the colors are so cute. Also, the red lashes don't show up as much compared to the darker blues and greens, and I'm not sure if it's because of the black eyeliner I usually do or if it is just because I have naturally dark lashes.
Maya

United States
Hello Maya! For which way the flare is this is because most of the lashes in the set don't flare out and instead they are fuller at the center and shorter at the ends so we recommend cutting the lashes before applying to where the flare is on the correct side for each eye. Hope this helps! The red lashes, are indeed lighter in color but also dramatic as well, for this we recommend curling your lashes and applying mascara afterward to blend your natural lashes together with the false lashes.
03/30/2022
the colors are so pretty!
i'm not usually experienced with using lashes, but these ones are extremely high quality and the color is so vibrant and cute!! it is a lot more dramatic/long than i thought it would be but it's still the cutest !! the box that it came with is so pretty. definitely recommend <3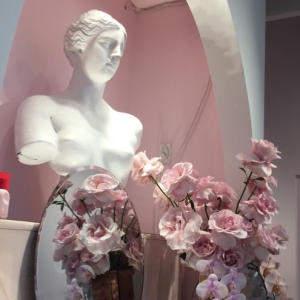 T
t

United States
01/28/2022
Cute and simple for me
It's bother cute and simple for me. This lash set has beautiful art on it. The lashes aren't half bad either the colors are vibrant and I love them.
ShyAnne

United States
01/15/2022
Great Purchase
I loved the color variety!!! Absolutely my favorite lash set. You will not be disappointed these are so beautiful.
S.

United States
01/13/2022
Must Buy!
I just received this today and I am stunned! They are so worth it! The lashes are so long, soft and fluffy! They are a lot softer and feather out so beautifully. I love that the seller put so much care into the packaging of it! The box has a magnetic hold so that nothing falls out when the box is closed. The artwork on the box is clear and very nicely done. You can tell by the way that the item was shipped out that it was done with love and care. I appreciate how the seller put a "Fragile handle with care" sticker on the packaging and also gave additional stickers as a bonus. I will definitely purchase from them again!
Anna L.

United States
10/04/2021
LOVE IT
I opened my package with my mom and she was even amazed by the colors and how pretty they are. She wants to try them on! They're very soft and so pretty. The packaging is adorable, im so glad of my purchase here!
Amarallis

United States