What's inside? Well, it's a mystery! They will contain anything from makeup to accessories we have in our shop! You can request specific items or items you don't want (in the checkout notes) and/or give us permission to make a video packing your box. Each mystery box will be unique to its own so if you get two boxes, they will contain different items! Mystery boxes may also include items that are worth more than the box you paid for!
All small items will come in a cute box fit for the cute mystery! See the picture of the cute box in our photos!
Grab your mystery box now if you can't decide on what to get on our website, we'll curate one for you or per your preferences!
International shipping is available!
PRE-ORDERS: For pre-order items, it may take 1-2 months before it is processed and shipped out. This is because pre-order items are in the works of manufacturing and are not in-stock inventory. You will be updated on the process on our Instagram page. If you purchase a pre-order item, your entire order will not be shipped out until that item arrives and is processed. If you don't want to delay the rest of your package, order pre-order items separately. By ordering pre-order items, you agree to these terms. If you don't wish to wait, don't order pre-order items.
REGULAR ORDERS: shipping time is 3-5 days, please refer to your tracking number as delays may occur. Processing time is 3-5 days, 3-10 days on influx restock days. Orders are unable to be shipped on weekends. Please allow 24-48 hours for tracking information to update via the USPS website.
INTERNATIONAL ORDERS: shipping time depends on the carrier you choose and the country you reside in, which should give you an estimate when you choose the shipping method. Euphoric Sun is not responsible for delays that may occur due to COVID-19 and other issues resulting in delays to countries outside of the US. Please be patient with international orders, feel free to contact us if any issue occurs.
If an address change needs to be made, please contact us with your order number and we can make changes from there. Please make sure to enter the correct shipping address to minimize the risk of the mailing service losing your package. We are not responsible for customers putting in the wrong address and a wrong address may result in the package being lost.
Refunds: Euphoric Sun does not provide refunds, all sales are final.
Exchanges: If the item is not open or used an exchange can be made with a product of the same value or lower. Euphoric Sun is not responsible for shipping costs on returns.
International: No refunds, exchanges, or returns for international customers.
If you have any issues with your order please email:
sun@euphoricsun.com with your name and order number. Thank you!
Customer Reviews
08/22/2023
Mystery boxes on sale
Hey thank you for the mystery boxes! I had order the 6 $50 mystery boxes And only had been able to review them now! I will saw that I love the lashes and chest bag thank you for putting it in my order. Thank you for the eyeshadow palette, I will say that I barely use those color mostly cause I don't do make up often except with browns and some red. Regardless I love it still and will buy again!
Delaney C.

United States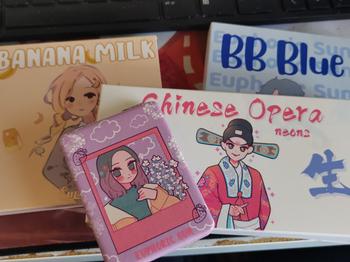 08/22/2023
Love it!
I got the bb blue and banana milk eyeshadow palettes and they are beautiful, the sparkles and shimmers are so pretty, havent tried the neon eyeliner yet but they look so good and so pretty! Also got the mirror and it Will always be in my purse, gorgeous, everything, thank you!
Anonymous

Portugal
08/05/2023
AMAZING <3
Was super excited to receive my mystery boxes during the sale that I literally ran to the mailbox when I got the notification that it was delivered. Products arrived safe and sound with cute freebies. I got everything that I asked for and more with cute full sets of other products! This is my first-time purchasing makeup, so I had an assortment of amateur and fun products to try once I get back to school. I can't even ask for more, especially with this sale being permanent! Definitely going to save up for another round later on!
Annie

United States
08/03/2023
3 Mystery boxes during the sale
So first I'd like to make clear my request for the boxes was that it work with the strawberry milk palette and taro milk mini palette to complete looks. And now I'd love to rave about the pastel Chinese opera eyeliners. I love to use them so much as an eyeliner or to make detailed little designs across my face. I'm currently looking for a way to make it sweat proof as I live somewhere maddeningly hot and that's the only downside I've had thus far. I also got the super cute Lilac transparent bag, great for carrying several makeup palettes or just the essentials for travel or on the go. And lastly I received the banana milk palette. Personally I'm a little hesitant to use warm tones so I wasn't sure how I'd feel but I quickly grew to use and like it, and I wouldn't have tried it without the guidance. It has subtler tones and glitters that were an entryway to using the true golden tones. The first look I made with everything was a sunset inspired look and it all went together so well! Request met, Looks completed and elevated.
Ava R.

United States
08/01/2023
Can't decide let the owner pick
So nice. If you can't choose between all the amazing products can't go wrong with a mystery box. All of the products are so colorful.
Katlyn S.

United States
08/01/2023
Good quality items, but disappointed in the selection
Tested fate with the gacha box, but I was disappointed to open my package of THREE $50 mystery boxes to find five of the exact same highlighter (the full set of the Asian dessert highlighter pallets, in which half is unusable because I only have one skin tone that suits one highlighter......). I feel like this package was just a few of the items that don't really sell at this store and they wanted to decrease stock. Regardless, this just showed me not to purchase mystery boxes from this business again. However the items themselves were well packaged and good quality, I'm not adverse to buying again but it won't be from any time soon.
MB
Morgan B.

United States
Hello, Morgan your comment on your order was"I'm open to everything in your store" and since you ordered a bigger order we wanted to give you bundles. It is a mystery but we wouldn't know what fits your skin unless you've stated it. We definitely did not send you the same highlighter more than once since that would just be cheating you out. We most likely sent you a few different colors. We have a notes section so that you can request what you'd like in your mystery box. If you don't give us a request then we'll pick items for you. Hope this helps!